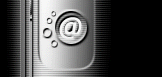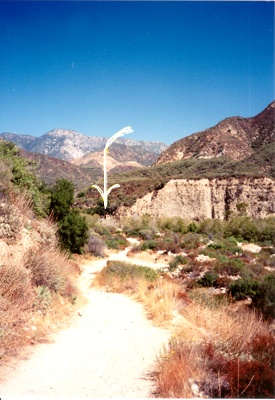 This cabin's construction most likely began at the turn of the century. This was originally a simple light frame board structure that served as shelter for a local gold miners.

We know that at one time it was owned by Walter Pigeon who co-starred in "How Green Was My Valley", a 1941 classic Oscar winner.

This gold miner's cabin had gone through countless owners and countless modifications.

The new owners were in the process of rebuilding it when I became involved.

First we had to remove the wall against the hill as the termites and dryrot had dissolved it.

A whole wing of the cabin had settled because the supports had collapsed.

After major structural repairs new windows and new doors including a sliding glass french door were installed.

The exterior was papered and sheathed T1-11 grooved at 4" on center.

I sheathed the interior with tongue & groove knotty pine.

The exterior deck was rebuilt with 2" x 6" redwood.

The crowning touch was the fireplace which was rebuilt with a smoke box, face and hearth.

Installed in the stone, which came from the streambed, was a steel rod that a cast iron pot could be hooked to cook soup, stew or chili.




Note: To see larger photos of slideshow slides click on the image.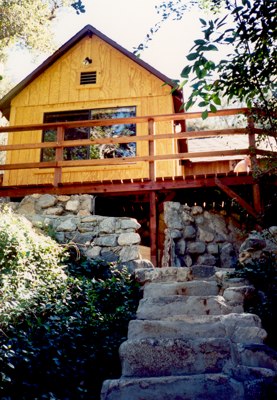 PREVIOUS
NEXT
A lack of law enforcement and a disrespect for nature came together with a group of illegal aliens who felt the hot coals from their bar-b-que was best disposed of in the undergrowth.

Law enforcement failed in that they did not enforce the law which specifically prohibited bar-b-ques on the far shore of the San Gabriel river.

One of the 'reasons' that they decided to force anyone who wants to enjoy Angeles National Forest to pay for an 'Adventure Pass' was so they could hire more law enforcement to 'police' the forest.

The 'Adventure Pass' program had been in place for at least three years before the cabin was burned.

Rumor has it no law enforcement officer would attempt to get the illegal aliens to obey the law as they feared for their lives.

Must be nice to get paid to be always be somewhere else than were you are needed.

The cabin in the north fork was burnt to the ground.

And of course no one was arrested as no one 'saw' anything or 'knew' anything.

The judge's cabin a half a mile away was saved though, through several water and fire retardant drops.

You have to politically connected for government, fire fighters and law enforcement to work for you.

They most definitely did not work for Patrick.