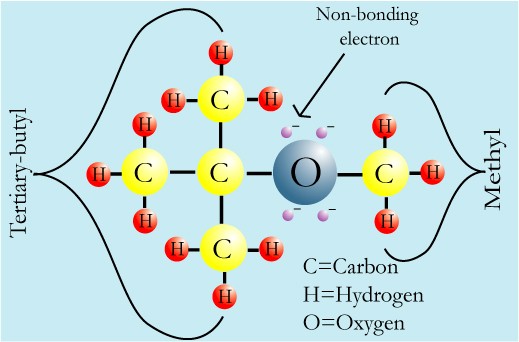 1979 Methyl tert-butyl ether replaces tetraethyl lead in gasoline.

Methyl tert-butyl ether, also known as methyl tertiary butyl ether and MTBE, is an 'organic' compound with molecular formula (CH3)3COCH3.

MTBE is a volatile, flammable and colorless liquid that is sparingly soluble.

It has a minty odor vaguely reminiscent of diethyl ether, leading to unpleasant taste and odor in water.

MTBE is a gasoline additive, an oxygenate to raise the octane rating.

Its use became controversial when found in ground water.

After that federal and state legislation favored ethanol.

1992 MTBE is being used at higher concentrations in some gasoline to fulfill the oxygenate requirements set by Congress in Clean Air Act.

1996 Santa Monica closes 7 of 11 drinking water wells in its Charnock well field after discovering MTBE contamination.

1999 MTBE, manufactured by the chemical reaction of methanol and butylene, is being produced in very large quantities of more than 200,000 barrels per day in the US.

October 15, 2000 Chevron announces acquisition of Texaco.

2001 An associate professor of chemistry at Purdue University finds MTBE in gasoline supplies in systems where the fuel additive is not required.

The study examines 200 samples of gas taken from stations in Indiana, Illinois and Michigan and finds that over 70% of the samples contained MTBE and 25% of the samples contained "significant amounts of MTBE.

One ounce of MTBE can contaminate 1,000 tons of water.

California's Water Resources Control Board reports 48 public water drinking systems serving hundreds of thousands of residents have been contaminated with MTBE.

This is in addition to tens of thousands of private wells throughout California and hundreds of thousands of private wells nationwide.

Shell, Chevron, Texaco, Equilon Enterprises and Unocal settle a lawsuit filed by an environmental group which requires the oil companies to remediate MTBE ground water contamination at a minimum of 700 sites in California.

ExxonMobil agrees to pay $12 million in partial reimbursement of what South Lake Tahoe Public Utility to remediate MTBE from ground water which had to close 12 of its 34 drinking water wells.

2003 ChevronTexaco agrees to pay $9.1 million to settle a lawsuit arising from MTBE ground water contamination in Cambria, California.

2004 California Superior Court judge approves a settlement agreement between a dozen firms and the City of Santa Monica, California over ground water contamination with MTBE.

The settlement, which is valued at $312 million, includes $100 million in cash payments plus "a potentially unlimited obligation to cleanup up the wells."

Defendants included in this settlement are:

ChevronTexaco, Chevron USA Inc., Chevron Products Co., ExxonMobil, Shell Oil, Shell Oil Products, Shell Pipeline, Equilon Enterprises, Equilon Pipeline, Texaco Refining, Thrifty Oil, and Best California Gas.

This is believed to be the largest settlement to date for MTBE contamination.

New York State had identified over 13,000 sites with ground water contamination by MTBE.

New York had allowed gasoline sold in the state to include 12 to 15% MTBE, some of the highest mixtures in the nation.

MTBE contamination has been discovered in ground water in 28 states and estimates of the costs to cleanup the contamination range from $30 billion to $100 billion.

The estimated costs to filter some 130 municipal drinking water wells in Plainview Long Island (New York) ranges from $390 million to $1 billion.

New York has removes some 6,000 leaking underground storage tanks.

By January, 2005 oil companies agreed to pay nearly a half billion dollars to settle lawsuits filed on behalf of municipalities over MTBE contaminated ground water.

2005 Worldwide production of MTBE has been constant at about 18 million tons/y owing to growth in Asian markets which are less subject to ethanol subsidies.

ChevronTexaco agrees to settle a lawsuit by paying $850,000 for ground water contamination with MTBE. The suit is filed by the Los Osos Community Services District after MTBE from a former gas station contaminated ground water and at least one drinking water well.

EPA announced another settlement with a dozen oil companies over MTBE contaminated ground water beneath Santa Monica, California.

The settling companies, which will pay $1.5 million to end the suit, include:

Shell Oil; Shell Oil Products; Equilon Enterprises; Shell Pipeline; TRM; ChevronTexaco; Chevron USA; ExxonMobil; Mobil Oil; Thrifty Oil; and Best California Gas.

The companies have already extracted nearly 350 million gallons of contaminated ground water.

Estimates of cleanup costs necessary to remediate MTBE contaminated ground water nationwide run between $29 billion and $92 billion. Some 140 municipalities and water companies have filed lawsuits against petroleum industry defendants over ground water contamination with the fuel additive MTBE.

Twelve oil companies, Premcor Refining, Conoco, Tosco, Shell Oil, Shell Oil Products, Phillips Petroleum, BP Products North America, BP Amoco, Union Oil, UNO-VEN, Citgo Petroleum, and PDV Midwest Refining LLC, have agreed to pay $8 million to the village of East Alton, Illinois to settle their liability for drinking water wells contaminated with MTBE.

Two gas stations are believed to be the source of the contamination.

Twenty-one US Senators ask the EPA to provide them with information contained in a draft report being reviewed by the agency that concludes that the gasoline additive MTBE should be labeled a human carcinogen.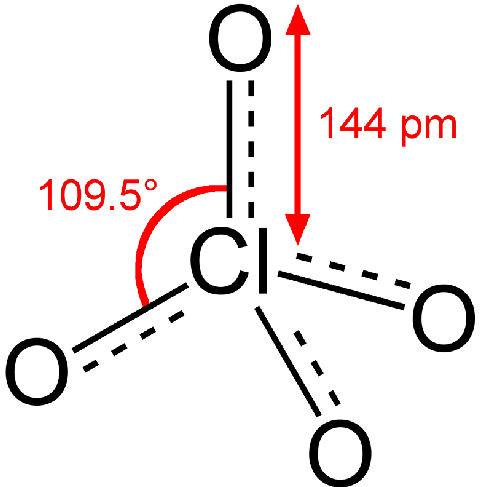 Perchlorate blocks the nutrient iodide and inhibits thyroid hormones, which are necessary for brain development and cellular growth of a fetus or infant.

A baby with impaired thyroid development may have neurological defects that result in lower IQ, mental retardation, loss of hearing and speech and motor skills deficits.



Perchlorate salts, a chemical compound containing the perchlorate ion, are produced industrially by the oxidation of solutions of sodium chlorate by electrolysis.

2004 EPA published a draft assessment which concludes that perchlorate is harmful to the human thyroid, particularly in infants, when concentration in drinking water exceed one part per billion (ppb).

FDA finds perchlorate contamination in nearly every one 104 milk samples taken from milk bought in retail stores in Arizona, California, Georgia, Kansas, Louisiana, Maryland, Missouri, North Carolina, Pennsylvania, South Carolina, Texas, Virginia and Washington.

The average concentration of perchlorate in the milk samples is 5.76 parts per billion (ppb).

38% of the samples had levels over 6 ppb. Perchlorate is also found in 128 samples of lettuce from Arizona, California, Florida, New Jersey, and Texas.

The States of Maryland and Massachusetts adopted a safety limit on perchlorate in drinking water of 1 ppb.

California set a preliminary limit of 6 ppb for perchlorate in drinking water.

2005 Texas Tech University's Institute of Environmental and Human Health finds perchlorate in virtually all samples of women's breast milk at levels on average almost two times greater than in cow's milk.

The highest levels found in breast milk, 92 parts per billion (ppb) and 51 ppb came from two New Jersey women.

Samples exceeding 30 ppb were found in women from New Mexico, Missouri and Nebraska.

The average for all samples was 10.5 ppb.

The study found that a 9 pound baby drinking breast milk with 10.5 ppb of perchlorate would ingest more than double the amount of perchlorate deemed safe by a recent National Academy of Sciences (NAS) report.

The findings concern health experts because infants and fetuses are the most vulnerable to the thyroid-impairing effects of the chemical.

American women with low iodine levels exposed to a perchlorate concentration in the water of 4 parts per million, 11 million people in 26 states, have suppressed thyroid function which can lead to health problems in them and abnormal brain development in their offspring.

111,1 women tested had an average percholate level of 2.9 parts per million.

EPA has identified 395 sites throughout the country with ground water contaminated by perchlorate - over half of which are in California and Texas. Only 51 of these at this time are undergoing remediation.

2006 Suggested limit of percholate in drinking water, modified by the George Walker Bush to 25 ppb, is 10 times higher than it should be.

With any standard lower than 5 ppb, as research suggested, expected costs of cleanup to the DoD and several of its major contractors is staggering.

In San Bernardino, California, Lockheed Martin agrees to clean up perchlorate contaminated ground water.

Olin Corp is the liable party for perchlorate contamination in hundreds of drinking water wells in Santa Clara County, California.

The ten mile plume of contamination emanated from a former flare manufacturing plant Olin Corp. operated from 1955 to 1996.

Tests of Santa Clara wells have found some 227 wells with perchlorate above the states safety limit of 6 parts per billion.

Some wells had levels above 100 parts per billion.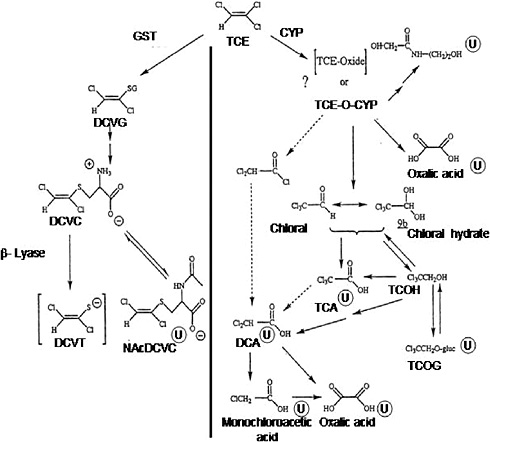 "The evidence on trichloroethylene is overwhelming.

We have 80 epidemiological studies and hundreds of toxicology studies.

They are fairly consistent in finding cancer risks that cover a range of tumors." - Dr. Gina Solomon, environmental medicine UC San Francisco
2001 Trichloroethylene, or TCE, is as much as 40 times more likely to cause cancer than the EPA had previously believed.

1400 military properties nationwide are polluted with trichloroethylene.

The Pentagon buries the information.

Huge trichloroethylene plumes lie under swaths of California, Texas, New York and Florida.

The San Fernando and San Gabriel (30 square miles) valley aquifers of the Los Angeles basin are largely contaminated with trichloroethylene and there is high ambient levels of trichloroethylene in the air.

243 wells have been shut down and in some cases water agencies use cleaner water to dilute trichloroethylene contaminated ground water.

Several remedial settlements have been reached over trichloroethylene contaminated ground water in San Bernardino, California - Lockheed Martin; Lisle, Illinois and DuPage County, Illinois - Lockformer Co.; Dayhoit, Kentucky -National Electric Coil/Cooper Industries; Warren, Rhode Island - Jones Apparel/Victoria Creations; Urbana, Ohio - Siemens Energy & Automation Inc. and Nikko Materials USA

Indoor air in homes near contaminated sites contain enough trichloroethylene to create an elevated cancer risk.

Trichloroethylene has been linked to liver, pancreatic and kidney cancers, birth defects and childhood leukaemia, just like radiation.
1,1-Dichloroethane C2H4Cl2 is a chlorinated hydrocarbon.

It is a colorless oily liquid with a chloroform-like odor.

It is not easily soluble in water, but miscible with most 'organic solvents'.

Organic solvents are capable of dissolving or dispersing one or more other substances.

"Organic solvents can be carcinogens, reproductive hazards, and neurotoxins.

Carcinogenic organic solvents include benzene, carbon tetrachloride, and trichloroethylene.

Organic solvents recognized as reproductive hazards include 2-ethoxyethanol, 2-methoxyethanol, and methyl chloride.

Organic solvents recognized as neurotoxins include n-hexane, tetrachloroethylene, and toluene.

Many classes of chemicals are used as organic solvents, including aliphatic hydrocarbons, aromatic hydrocarbons, amines, esters, ethers, ketones, and nitrated or chlorinated hydrocarbons.

Organic solvents are used in many industries.

They are used in paints, varnishes, lacquers, adhesives, glues, and in degreasing and cleaning agents, and in the production of dyes, polymers, plastics, textiles, printing inks, agricultural products, and pharmaceuticals.

Millions of US workers are exposed to organic solvents.

The level of exposure depends upon the dose, duration, and work being done." - https://www.cdc.gov/niosh/topics/organsolv/default.html

Large volumes of 1,1-dichloroethane are manufactured, with annual production exceeding 1 million pounds in the United States.

Common use of 1,2-dichloroethane is in the production of vinyl chloride.

P-dichlorobenzene is a white colored liquid with the odor of moth balls.

1,2-Dichlorobenzene is an carbon compound with the formula C6H4Cl2.

It is a derivative of benzene, consisting of two adjacent chlorine atoms.

It is used an insecticide for termites and locust borers by the United States Forest Service to combat bark beetle outbreaks.

2008 Bill Doucette finds 1,2-dichloroethane (DCA), a toxic chlorinated solvent, in gingerbread man Christmas ornaments made in China at Hill Air Force Base, an aircraft-maintenance facility north of Salt Lake City.

Each gram of gingerbread man polymer contained 2.3 milligrams of 1,2-dichloroethane and the emission rate of the toxic chlorinated solvent fumes remains dangerously elevated for nearly a year.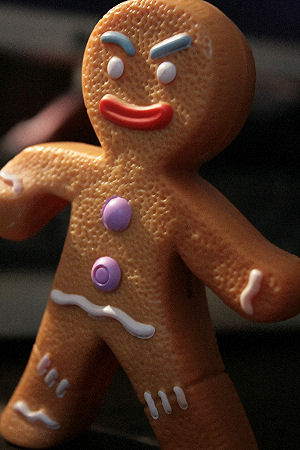 Ground water contamination reported at US military bases:

Long Beach
1,2-dichloroethylene, 420000.0 ppb

Alameda
1,2-dichlorobenzene 82000.0 ppb

Lemoore
1,2-dichlorobenzene 32000.0 ppb

Mare Island
1,2-dichlorobenzene 20000.0 ppb

Mather AFB
1,2-dichlorobenzene 590000.0 ppb

Benicia
1,2-dichloroethylene 470000.0 ppb

Camp Pendleton
1,2-dichloroethane 12000.0 ppb

George AFB
1,2-dichloroethane 16000.0 ppb

Point Molate
1,2-dichloroethylene 11000.0 ppb;
Vinyl chloride 19000.0 ppb

March AFB
1,2-dichlorobenzene 130000.0 ppb

North Island
1,1-dichloroethylene 23000000.0 ppb;
1,2-dichloroethane 1100000.0 ppb;
Barium and compounds 2590000.0 ppb;
Acenaphthene 11000000.0 ppb;
Butyl benzyl phthalate 11000000.0 ppb;
Polychlorinated biphenyls ...

Stockton Naval
1,1-dichloroethane 16000.0 ppb;
Selenium 17700.0 ppb;
Phenol 26000.0 ppb;
Antimony and compounds 29700.0 ppb;
Copper and compounds 41800.0 ppb;
Vinyl chloride 45000.0 ppb;
Vanadium 62700.0 ppb;
Zinc 132000.0 ppb;
Arsenic 180000.0 ppb;
Nickel and compounds 208000.0 ppb;
Fluoride ...

Oakland
1,1-dichloroethane 20000.0 ppb;
Methyl ethyl ketone 25000.0 ppb;
1,2-Dichloroethylene (mixture) 39000.0 ppb;
Trichloroethylene (TCE) 53000.0 ppb;
Acetone 77000.0 ppb;
Barium and compounds 216000.0 ppb;
Nickel ...

Tustin USMC Air Station
1,1-dichloroethane 39000.0 ppb;
1,1-dichloroethylene 300000.0 ppb;
1,2-dichloroethylene 780000.0 ppb
1,1,1-trichloroethane 580000.0 ppb;
Selenium 45500.0 ppb;
Cadmium and compounds 68590.0 ppb;
Methylene chloride 100000.0 ppb;
Chloroform 130000.0 ppb ...

Edwards
1,2-dichlorobenzene 38000.0 ppb

Fort Barry 1,1-Dichloroethane 63000.0 ppb;
1,2,4-trimethylbenzene 65000.0 ppb;
Antimony and compounds 73900.0 ppb;
Arsenic 104300.0 ppb;
Barium and compounds ...

D-Q University
1,2-dichloroethylene 37000.0 ppb;
trichloroethylene (TCE) 23000.0 ppb;
vinyl chloride 68000 ppb ...

San Diego
1,2-dichloroethylene 3000.0 ppb;
Beryllium and compounds 700.0 ppb;
(Diethylamino)Ethane 1100.0 ppb;
Dalapon 2200.0 ppb
Silver and compounds 5500.0 ppb
Carbon Tetrachloride 7000.0 ppb;
Lead 8100.0 ppb ...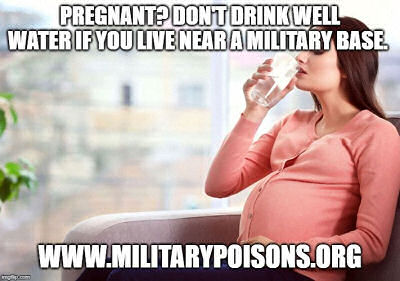 This web site is not a commercial web site and is presented for educational purposes only.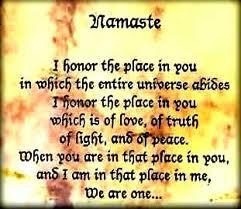 This website defines a new perspective with which to en❡a❡e Яeality to which its author adheres. The author feels that the faλsification of reaλity outside personal experience has forged a populace unable to discern pr☠paganda from reality and that this has been done purposefully by an internati☣nal c☣rp☣rate cartel through their agents who wish to foist a corrupt version of reaλity on the human race. Religi☯us int☯lerance ☯ccurs when any group refuses to tolerate religi☯us practices, religi☸us beliefs or persons due to their religious ideology. This web site marks the founding of a system of philºsºphy nªmed The Mŷsterŷ of the Lumière Infinie - a ra☨ional gnos☨ic mys☨ery re☦igion based on reaso🐍 which requires no leap of faith, accepts no tithes, has no supreme leader, no church buildings and in which each and every individual is encouraged to develop a pers∞nal relati∞n with Æ∞n and Sustainer through the pursuit of the knowλedge of reaλity in the hope of curing the spiritual c✡rrupti✡n that has enveloped the human spirit. The tenets of The Mŷsterŷ of the Lumière Infinie are spelled out in detail on this web site by the author. Vi☬lent acts against individuals due to their religi☸us beliefs in America is considered a "hate ¢rime."

This web site in no way c☬nd☬nes vi☬lence. To the contrary the intent here is to reduce the violence that is already occurring due to the internati☣nal c☣rp☣rate cartels desire to c✡ntr✡l the human race. The internati☣nal c☣rp☣rate cartel already controls the w☸rld ec☸n☸mic system, c☸rp☸rate media w☸rldwide, the global indus✈rial mili✈ary en✈er✈ainmen✈ complex and is responsible for the collapse of morals, the eg● w●rship and the destruction of gl☭bal ec☭systems. Civilization is based on coöperation. Coöperation with bi☣hazards at the point of a gun.

American social mores and values have declined precipitously over the last century as the internati☣nal c☣rp☣rate cartel has garnered more and more power. This power rests in the ability to deceive the p☠pulace in general through c✡rp✡rate media by press☟ng em☠ti☠nal butt☠ns which have been πreπrogrammed into the πoπulation through prior mass media psychological operations. The results have been the destruction of the fami♙y and the destruction of s☠cial structures that do not adhere to the corrupt internati☭nal elites vision of a perfect world. Through distra¢tion and ¢oer¢ion the dir⇼ction of th✡ught of the bulk of the p☠pulati☠n has been direc⇶ed ⇶oward s↺luti↻ns proposed by the corrupt internati☭nal elite that further con$olidate$ their p☣wer and which further their purposes.

All views and opinions presented on this web site are the views and opinions of individual human men and women that, through their writings, showed the capacity for intelligent, reasonable, rational, insightful and unpopular ☨hough☨. All factual information presented on this web site is believed to be true and accurate and is presented as originally presented in print media which may or may not have originally presented the facts truthfully. Øpinion and ☨hough☨s have been adapted, edited, corrected, redacted, combined, added to, re-edited and re-corrected as nearly all opinion and ☨hough☨ has been throughout time but has been done so in the spirit of the original writer with the intent of making his or her ☨hough☨s and opinions clearer and relevant to the reader in the present time.



Fair Use Notice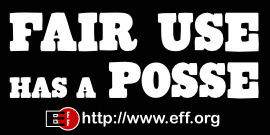 This site may contain copyrighted material the use of which has not always been specifically authorized by the copyright owner. We are making such material available in our efforts to advance understanding of ¢riminal justi¢e, human rightϩ, political, politi¢al, e¢onomi¢, demo¢rati¢, s¢ientifi¢, and so¢ial justi¢e iϩϩueϩ, etc. We believe this constitutes a 'fair use' of any such copyrighted material as provided for in section 107 of the US Copyright Law. In accordance with Title 17 U.S.C. Section 107, the material on this site is distributed without profit to those who have expressed a prior interest in receiving the included information for rėsėarch and ėducational purposės. For more information see: www.law.cornell.edu/uscode/17/107.shtml. If you wish to use copyrighted material from this site for purposes of your own that go beyond 'fair use', you must obtain permission from the copyright owner.

Copyright © Lawrence Turner
All Rights Reserved