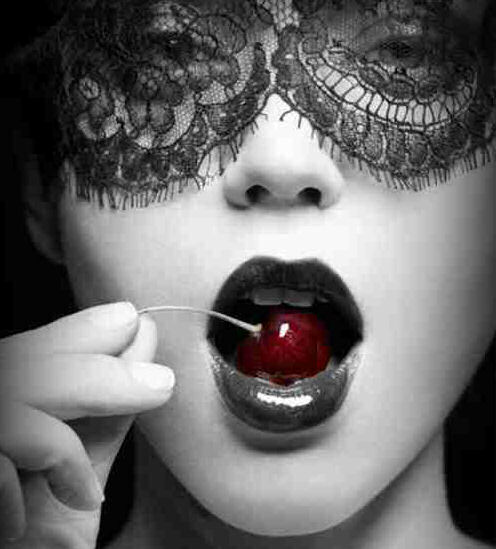 The Brother of the Tailor
As my brother was sitting in his shop one day sewing.

He raised his head and saw a goddess like the rising full moon, at a projecting window of the house, looking at the people passing by.

As soon as he beheld the radiant beauty of her face he felt desire.

He passed the day steeling gazes at the window wishing her to reappear.

The next day after he began to sew he became entranced in the reverie of desire and failed to sew enough to earn a piece of cooper.

On the third day his eyes met hers and a sly smile crossed her face.

She vanished but soon her slave girl appeared at his door, "My mistress saluteth thee, and desireth thee to cut out for her, with the hand of skill, a shirt of this silk piece, and to sew it beautifully."

He cut out for her the shirt, and finished sewing it that day.

The following day the slave girl came to him again, "My mistress saluteth thee, and saith to thee, How didst thou pass the night? She tasted not sleep, from her passion for thee."

She then placed before him a piece of yellow satin, "My mistress desireth thee to cut out for her, of this piece, making two pairs of trousers this day."

"Salute her with abundant salutations, and say to her, thy slave is submissive to thine order."

He busied himself cutting and diligently sewing two pairs of trousers.

Bye and bye the woman looked out at him from the window, smiling slyly.

At nightfall he delivered into the hands of the slave girl the trousers.

On the following day, the master of the house came to my brother, bringing some linen, and said to him, "Cut out and make this into shirts for me."

The husband asked, "How much is thy hire for this?"

My brother answered not.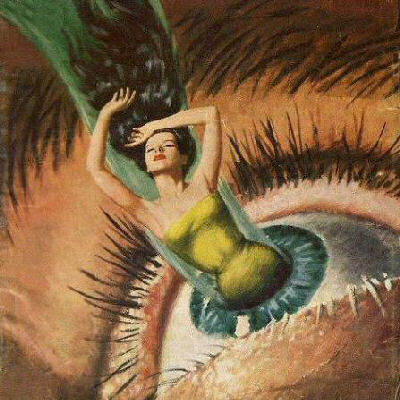 For three days he continued scarcely eating or drinking anything, in his diligence to accomplish his work, and when he had finished it, he went to deliver the shirts.

My brother knew not that the wife and husband plotted to enslave him by marrying him to their slave girl.

Told by the slave girl his mistress would meet him in the mill he entered the mill and waited until the appointed time of midnight.

At midnight the miller appeared, "Verily this bull is lazy, while there is a great quantity of wheat, and the owners of the flour are demanding it.

I will yoke him in the mill that he may finish the grinding of the flour".

So he yokes my brother onto the mill where he turns the mill stone until morning when the slave girl reappeares saying, "My mistress is in distress by this which hath befallen thee."

As the slave girl and my brother leave the house several onlookers stare.

As my brother returns to his shop the sheykh appears sealing the marriage contract, "May God prolong thy life! May thy marriage be blessed!"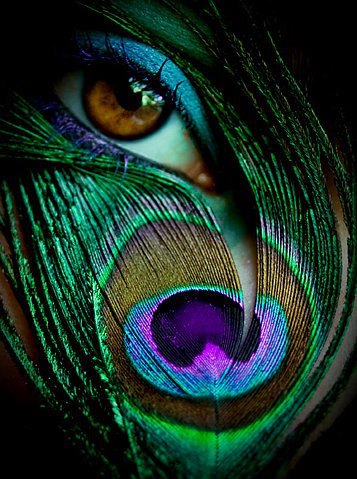 Husband and Parrot
There was a merchant with a jealous disposition who had a wife endowed with striking beauty who prevented him from leaving his home for fear she would take up with another.

Business events obliged him to make a journey.

He went to the market in which birds were sold, and bought a parrot, to act as a spy.

This parrot was intelligent and remembered whatever she heard.

Returning from the journey he queried the parrot regarding the conduct of his wife.

The parrot answered, "Thy wife has a lover, who visited her every night during thy absence."

Hearing this he fell into a violent rage and severely beat his wife.

His wife imagined a female slave had been an informant.

She called them together but they all swore they had not told their master anything of the matter but finally confessed they had heard the parrot relate to him all that had passed.

Having established on the testimony of the slaves the intrigue of the parrot she ordered one of these slaves to grind with a hand mill under the cage, another to sprinkle water from above, and a third to move a mirror from side to side before a candle when her lover was present.

Upon being questioned the parrot answered, '0 my master, I could neither see nor hear anything, on account of the excessive darkness, and thunder, and lightning, and rain.'

The merchant sat pondering, 'What strange words are these? It is now summer, when nothing of what thou hast described ever happens.'

The parrot calling on Allah claimed truthful speech but the merchant, being unaware of the plot, became violently enraged, took the parrot from the cage and threw her down upon the ground killing her.

After some days, one of his female slaves informed him of the truth.

The merchant then greviously mourned the loss of the parrot wrongly killed and lied in wait slaying his wife and her lover after catching them together.

For this they all three end up burning in Frashokereti.

from a Thousand and One Nights, Persian origin, re-written in Arabic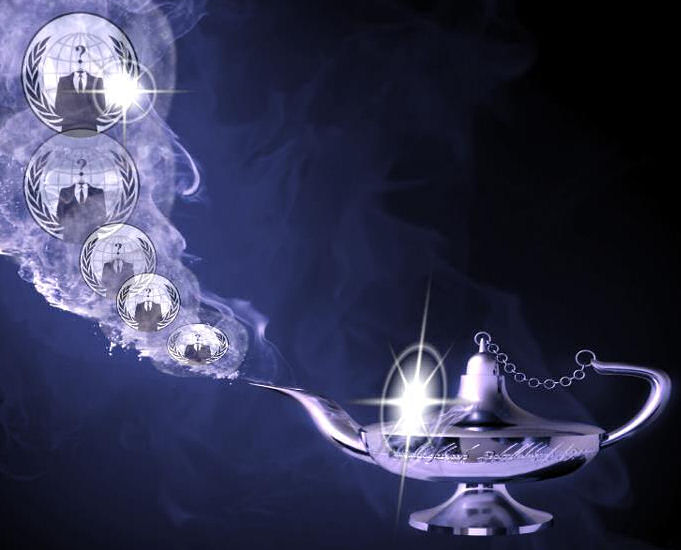 Aladdin's Lamp
"Who ever heard of someone lighting a lamp and then covering it up to keep it from shining?

No, lamps are mounted in the open where they can be seen.

This illustrates the fact that some day everything shall be brought to light and made plain to all.

So be careful how you listen; for whoever has, to him shall be given more; and whoever does not have, even what he thinks he has shall be taken away from him." - Ḉhri§t Ḉon§ḉiou§ne§§
Aladdin was a street urchin whose lazy ways were the death of his father and the despair of his mother.

One day an evil magician gave him a magic ring and attempted to deceive him into retrieving a magical lamp, but Aladdin foiled his trick, saved his own skin, and emerged with the lamp to boot, along with some jewels which he initially thought were fruit.

When his mother polished the lamp, a genie emerged.

Aladdin asked him for food, which the genie delivered instantly on 12 silver plates on a large silver platter.

Living from hand to mouth, Aladdin sold the plates one by one as they needed money.

Addressing himself to a Jew whom he met in the streets, he took him aside, and pulling out the plate, asked him if he would buy it.

The cunning Jew took the dish, examined it, and as soon as he found that it was good silver, asked Aladdin at how much he valued it.

Thinking Aladdin knew not the full value of what he offered to sell, the Jew took a piece of gold out of his purse and gave it him.

Over time Aladdin sold the twelve dishes singly, as necessity pressed, to the Jew each for a piece of gold.

When all the money was spent, Aladdin had recourse again to the lamp.

"I am hungry," said Aladdin. "Bring me something to eat."

The genie delivered instantly 12 silver plates on a large silver platter.

On his way to sell another plate to the Jew Aladdin passed by a goldsmith shop.
"My lad, I imagine that you have something to sell to the Jew, whom I often see you visit. Perhaps you do not know that he is the greatest rogue even among the Jews. I will give you the full worth of what you have to sell, or I will direct you to other merchants who will not cheat you."

This offer induced Aladdin to pull his plate from under his vest and show it to the goldsmith.

"My son, by showing you the value of this plate, which is of the finest silver we use in our shops, I will let you see how much the Jew has cheated you."

The goldsmith took a pair of scales, weighed the dish, and assured him that his plate would fetch by weight sixty pieces of gold, which he offered to pay down immediately.

Aladdin thanked him for his fair dealing, and never went back to the Jew.

One day Aladdin caught a glimpse of the princess and sent his mother to ask for her hand.

She took the jewel-fruits with her, and when the sultan saw them all a-glitter, he was inclined to agree, but his vizier, who wanted to give his own son a chance to compete, suggested a delay.

The king told Aladdin's mother to come back in three months, but then, two months later, an announcement was made of the princess's marriage to the vizier's son.

Thereupon, Aladdin called upon his genie to whisk away the wedding bed - bride, groom and all.



The genie did that for three nights, returning it each morning, and the frightful trips convinced the groom to relinquish his hold on the princess.

The sultan demanded a high price which Aladdin was able to deliver with help from the genie, who carried him to court amidst great riches and built a grand palace for the princess.



Aladdin prospered, but--alas!-- his elaborate display caught the attention of the evil magician again.

While Aladdin was away from home, the magician disguised himself and walked by Aladdin's palace calling, "New lamps for old," and the princess willingly traded away Aladdin's old lamp.

That night the magician used it to carry the palace, princess and all to Africa.

Next day Aladdin was taken to the sultan and told to find the princess or lose his head.

After three days of searching, he accidentally rubbed his magic ring, calling a genie who took him to Africa to the hideaway.

Together they devised a plot to poison the magician, then they stole back the lamp and returned home, where her father celebrated their return with feasting for ten days.

After this, Aladdin and the princess lived in happiness to the end of their days.

Tale of the Three Apples
A freeman wrongly murders his wife, cuts her into pieces and throws her into the Tigris river, deceived by a foul mouth thieving slave.

An old man tugging a fishing net laments being unable to haul in his net.

Wazir Ja'afar commands his slaves haul in the net in which is a heavy chest.

Its contents are a carpet, a woman's mantilla and - a dismembered woman!

Caliph Harun al-Rashid commands Wazir Ja'afar to question the local common folk to find the murderer within three days.

Wazir Ja'azar, tasked to find the murderer within three days, fails.

Three days grace the Caliph commands Wazir Ja'afar be decapitated with thirty-eight members of his extended family for not unveiling the murderer.

Moments before Ja'afar is about to be decapitated a mature and an ancient man both enter the court shouting and proclaiming murder.

The mature freeman gives details about the contents of the chest.

He begins spinning a tale about the woman that was his wife.

One day she fell ill of malnutrition and asked him for an apple.

Not finding apples locally he traveled to bring three apples to his wife.

But she had grown weaker and now could not eat the apples.

Three days later he observed a slave with an apple and approached him.

A loitering slave claimed his mistress gave him the apple for fornication.

Upon hearing this he flew into a blood rage, cut her throat, dismembered her, packed the pieces in a chest and threw it in the Tigris.

When his head clears he finds his son crying in a corner of the room.

His son tells his father his mother had given him one of apples and he went out.

A slave saw him, knocked him down and stole the apple.

He was ashamed to have lost such a precious apple so never mentioned it.

Seeing the deception the man had fallen into shock for the last five days.

He begs the Caliph to kill him for the insanely jealous murder of his wife.

The Caliph, being a wise judge educated in the ways of the Prophet, sees the mature man is speaking truth and has been the victim of false testimony.

The Caliph recognizes the ancient man is a elder member of Wazir Ja'afar extended family attempting to save his family, chuckles under his breath, and sends the old man away claiming he is obviously feeble.

The Caliph spares the freman's life and commands Wazir Ja'afar to find the slave and if he does not find him in three days, again, Ja'afar will be killed.

Knowing he cannot fulfil this task Ja'afar awaits his fate for three days.

Biding farewell to his family a rare apple is served which his daughter relates as a purchase from a neighbor's slave.

Wazir Ja'afar remands the slave to the Caliph Harun al-Rashid.

The thieving slave tricked the husband so as not to be found out as a thief.

The thieving slave had nothing to lose by lying and no choice as a slave is useless without hands and always put to death.

The slave is summarily decapitated.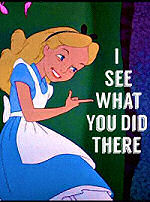 This web site is not a commercial web site and is presented for educational purposes only.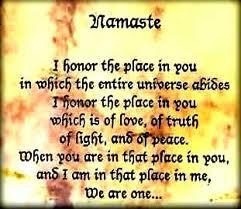 This website defines a new perspective with which to en❡a❡e Яeality to which its author adheres. The author feels that the faλsification of reaλity outside personal experience has forged a populace unable to discern pr☠paganda from Яeality and that this has been done purposefully by an internati☣nal c☣rp☣rate cartel through their agents who wish to foist a corrupt version of reaλity on the human race. Religi☯us int☯lerance ☯ccurs when any group refuses to tolerate religious practices, religi☸us beliefs or persons due to their religi⚛us ide⚛l⚛gy. This web site marks the founding of a system of philºsºphy nªmed The Truth of the Way of the Lumière Infinie - a rational gnostic mystery re☦igion based on reaso🐍 which requires no leap of faith, accepts no tithes, has no supreme leader, no church buildings and in which each and every individual is encouraged to develop a pers∞nal relati∞n with Æ∞n and Sustainer through the pursuit of the knowλedge of reaλity in the hope of curing the spiritual c✡rrupti✡n that has enveloped the human spirit. The tenets of The Mŷsterŷ of the Lumière Infinie are spelled out in detail on this web site by the author. Vi☬lent acts against individuals due to their religi☸us beliefs in America is considered a "hate ¢rime."

This web site in no way c☬nd☬nes vi☬lence. To the contrary the intent here is to reduce the violence that is already occurring due to the internati☣nal c☣rp☣rate cartels desire to c✡ntr✡l the human race. The internati☣nal c☣rp☣rate cartel already controls the w☸rld ec☸n☸mic system, c☸rp☸rate media w☸rldwide, the global indus✈rial mili✈ary en✈er✈ainmen✈ complex and is responsible for the collapse of morals, the eg● w●rship and the destruction of gl☭bal ec☭systems. Civilization is based on coöperation. Coöperation with bi☣hazards of a gun.

American social mores and values have declined precipitously over the last century as the corrupt international cartel has garnered more and more power. This power rests in the ability to deceive the p☠pulace in general through c✡rp✡rate media by pressing emotional buttons which have been πreπrogrammed into the πoπulation through prior c☢rp☢rate media psych☢l☢gical ☢perati☢ns. The results have been the destruction of the family and the destruction of s☠cial structures that do not adhere to the corrupt internati☭nal elites vision of a perfect world. Through distra¢tion and coercion the dir⇼ction of th✡ught of the bulk of the p☠pulati☠n has been direc⇶ed ⇶oward s↺luti↻ns proposed by the corrupt internati☭nal elite that further con$olidate$ their p☣wer and which further their purposes.

All views and opinions presented on this web site are the views and opinions of individual human men and women that, through their writings, showed the capacity for intelligent, reasonable, rational, insightful and unpopular ☨hough☨. All factual information presented on this web site is believed to be true and accurate and is presented as originally presented in print media which may or may not have originally presented the facts truthfully. Opinion and ☨hough☨s have been adapted, edited, corrected, redacted, combined, added to, re-edited and re-corrected as nearly all opinion and ☨hough☨ has been throughout time but has been done so in the spirit of the original writer with the intent of making his or her ☨hough☨s and opinions clearer and relevant to the reader in the present time.



Fair Use Notice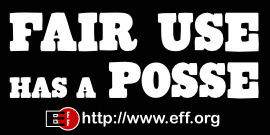 This site may contain copyrighted material the use of which has not always been specifically authorized by the copyright owner. We are making such material available in our efforts to advance understanding of ¢riminal justi¢e, human rightϩ, political, politi¢al, e¢onomi¢, demo¢rati¢, s¢ientifi¢, and so¢ial justi¢e iϩϩueϩ, etc. We believe this constitutes a 'fair use' of any such copyrighted material as provided for in section 107 of the US Copyright Law. In accordance with Title 17 U.S.C. Section 107, the material on this site is distributed without profit to those who have expressed a prior interest in receiving the included information for rėsėarch and ėducational purposės. For more information see: www.law.cornell.edu/uscode/17/107.shtml. If you wish to use copyrighted material from this site for purposes of your own that go beyond 'fair use', you must obtain permission from the copyright owner.

Copyright © Lawrence Turner
All Rights Reserved