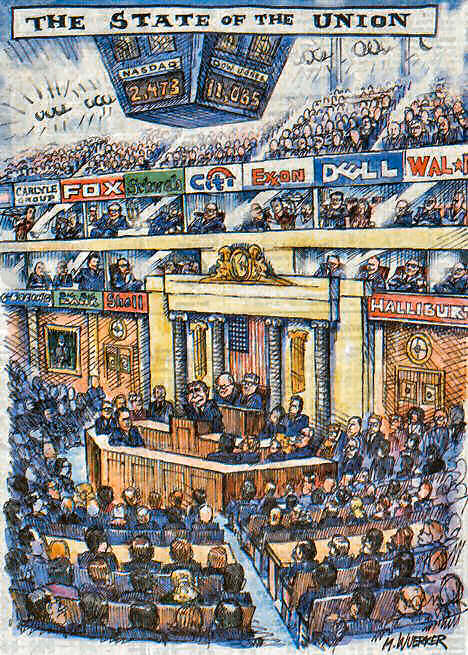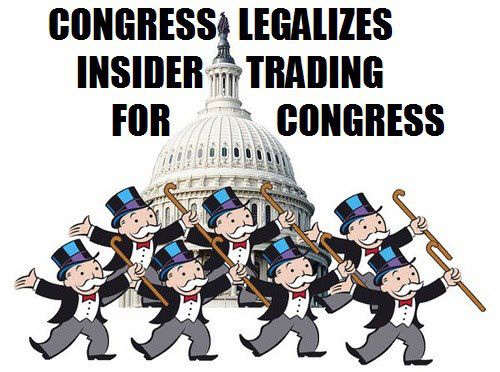 "Washington's a dangerous place." - Jack Abramoff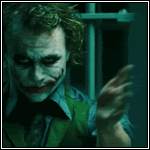 "Executives are in the business world for themselves first, and public trading of companies' stocks is a thinly disguised mechanism to allow executives and directors to profit from inside knowledge and favors." - Danila Oder

1894 Royal Society of St George established to foster love of England and to strengthen England and the Commonwealth by spreading the knowledge of English history, traditions, and ideals and to combat all activities to undermine the strength of England and the Commonwealth.

1895 American Society in London founded by prominent and influential Americans expatriates to promote the patriotic and social life of Americans residing in London.

1898 Inaugural meeting of the Anglo-American League.

1902 Pilgrims of Great Britian meet at the Carlton Hotel.

Some of Reader's Digest most prominent editors were Pilgrims.

1970 Marc David Rich invents the spot market for crude oil when he and Pincus Green became trading legends at Philipp Brothers, the commodities arm of Salomon Brothers.

Oil giants relied on long-term contracts for future purchases.

"The highly leveraged, not to say Ponzi business model Rich patented became the template for modern traders. Glencore, the opaque and complex commodities giant founded in 1974, is considered by many analysts the Amazon of the commodities trade." - Patricia Goldstone

Epstein's Network: Marc Rich's Pardon, Israel's 'Leverage' Over Clinton

1973 Rich uses his Middle Eastern contacts to circumvent the Arab oil embargo and buy crude oil from Iran and Iraq, which he then resells to supply-starved US companies at double the $12 per barrel he paid.

"Iran continued to be Rich's most important supplier of crude for the next 15 years, and he bragged to Amman how he singlehandedly kept both Israel and South Africa alive on smuggled oil throughout the apartheid sanctions of the 1970s and 1980s, not neglecting to make himself $2 billion in the process." - Patricia Goldstone

Rich trades with Castro's Cuba, Marxist Angola, Qaddafi's Libya, Ceausescu's Romania and Pinochet's Chile.

Jack Abramoff, born in Atlantic City where his father works with Arnold Palmer Enterprises, graduates high school in Beverly Hills.

1981 Jack Abramoff, chairman of the College Republican National Committee($10,000), graduates Brandeis University and Georgetown Law.

Abramoff distributes on campuses 900 copies of ''Target America," which posited that the Soviets have planted 4,000 journalist-agents in the American media to pursue a ''massive secret propaganda campaign."

1983 Rich is indicted by Rudolph Giuliani on charges of tax evasion and illegal trading with Iran.

Rich flees to Switzerland before a court appearance, and remains on the FBI's, "Most Wanted List," for many years.

Anti-Defamation League (ADL) National Director Abraham Foxman* receives $250,000 in contributions from Marc Rich.

"By virtue of the role of many Mega Group members as major political donors in both the US and Israel, several of its most notable members have close ties to the governments of both countries as well as their intelligence communities.

The Mega Group had close ties to two businessmen who worked for Israel's Mossad — Robert Maxwell and Marc Rich — and top Israeli politicians, including past and present prime ministers with deep ties to Israeli intelligence." - Whitney Webb, Mega Group, Maxwells and Mossad

From "Spook Air" to the "Lolita Express":
Genesis and Evolution of the Jeffrey Epstein-Bill Clinton Relationship

1985 Jack Abramoff founds The International Freedom Foundation .

Jack Abramoff spent ten years in Talmudwood, producing movies like Red Scorpion, an anti-communist film made in 1988 just after his term with the College Republicans ended.

Jack Abramoff: 'The whole system' is corrupt

1990s Mikhail Khodorkovsky, Boris Yeltsin's deputy minister for fuel and energy, works closely with Marc Rich facilitating a commodities grab in the former Soviet Union, laundering the money of the nomenklatura (the former Communist Party ruling class) out of Russia and into the economy, assisting in the creation of the oligarch class, particularly those who end up in Israel.

$45 billion in gold and foreign exchange reserves disappears.

"According to Paul Klebnikov, chief editor of the Russian edition of Forbes, Rich's example helped oligarch Boris Berezovsky bankrupt the emerging Russia by facilitating capital flight through international "spot markets" in oil, aluminum, zinc, grain, and other raw commodities." - Patricia Goldstone

1993 Wendy Gramm, Texas Senator Phil Gramm's wife, headed the Commodity Futures Exchange Commission.

At Enron's request Enron became exempt from Commodity Futures Exchange Commission regulations.

Wendy Gramm resigned her position and 6 weeks later is appointed to the Enron board of directors.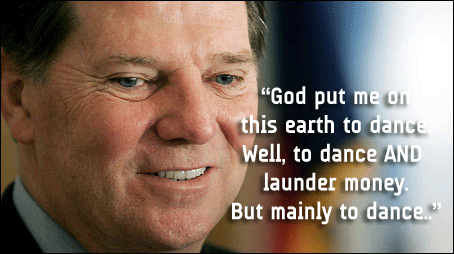 "The lobbyists I met at Cassidy & Associates and APCO were more than eager to help out.

In exchange for fees of up to $1.5 million a year they offered to send congressional delegations to Türkmenistan and write and plant opinion pieces in newspapers under the names of academics and think tank experts they would recruit." - Ken Silverstein

Congressman Tom DeLay, former Majority Leader of the House of Representatives, during a New Year trip to the Northern Mariana Islands of Saipan in 1997, "... one of my closest and dearest friends, ...".

After the trip, Jack Abramoff helped Tom DeLay craft policy that extended exemptions from federal immigration and labor laws to Saipan industries, even though the products were allowed to be labelled 'Made in the USA' as part of the US commonwealth.

Brian Ross at ABC News for 20/20 on March 13, 1998 noted factories in Saipan force workers to have abortions in order to keep their jobs.

2000 William Jefferson Clinton signs a bill with an amendment sponsered by Phil Gramm to exempt Enron from oversight to create the private trading floor leading to the Enron trading schemes - Fat Boy, Death Star, Get Shorty - and the California energy debacle which eventualy, with the help of Arnold Schwarzenegger, lead to quite a nice profit for the Wall Street bond brokers.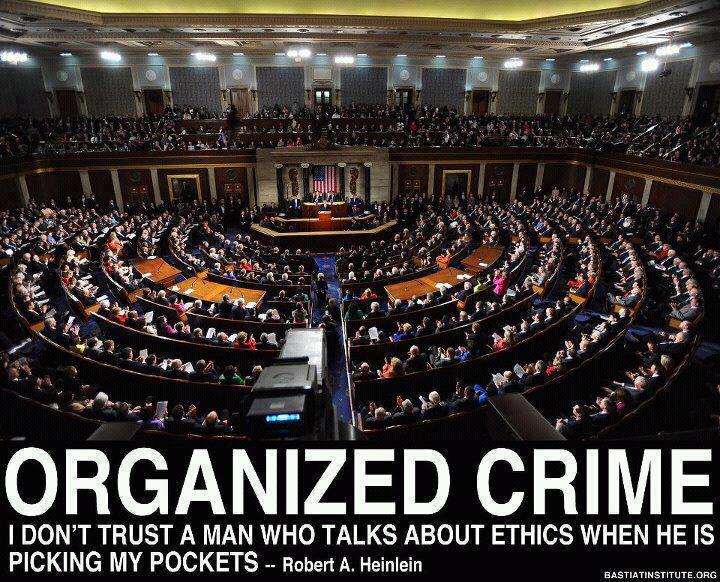 Stock Market Terms coined after the 2008 meltdown:

CEO – Chief Embezzlement Officer

CFO - Corporate Fraud Officer

BULL MARKET – A random market movement causing an investor to mistake himself for a financial genius.

VALUE INVESTING – The art of buying low and selling lower.

P/E RATIO – The percentage of investors wetting their pants as the market keeps crashing.

BROKER – What my financial planner has made me.

STANDARD & POOR – Your life in a nutshell.

STOCK ANALYST – Idiot who just downgraded your stock.

MARKET CORRECTION – The day after you buy stocks.

CASH FLOW – Movement money makes as it disappears down the toilet.

YAHOO – What you yell after selling a decline to some poor schmuck.

WINDOWS – What you jump out of when you're the poor schmuck.

INSTITUTIONAL INVESTOR – big bank trader locked up in a nuthouse.

PROFIT – An archaic word no longer in use.

If you had purchased $1000 of shares in American Airlines in 2008, you would have $49.00 in 2009.

If you had purchased $1000 of shares in AIG in 2008, you would have $33.00 in 2009.

If you had purchased $1000 of shares in Lehman Brothers in 2008, you would have $0.00 in 2009.

If you had purchased $1000 worth of beer in 2008, drank all the beer, then turned in the aluminum cans for the recycling refund, you would have received $214.00.

Based on the above, the best investment plan is to drink heavily & recycle.

It's called the 401-Keg plan.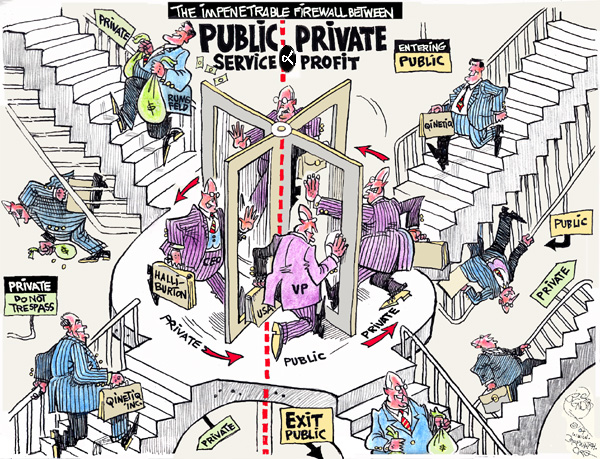 "Lobbyists are almost always former officials in Congress or the executive branch
and thus friends of those who are still in political office." - Glenn Greenwald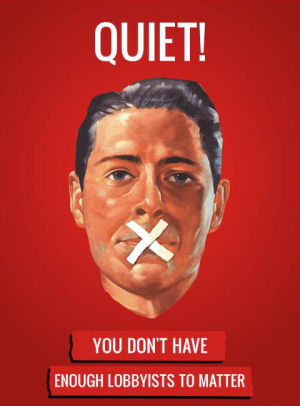 "The revolving door between Washington government offices and lobbying firms is so lucrative and so established that anyone pointing out that it is institutionalized corruption is seen as baying at the moon." - Fareed Zakaria

"The same revolving door that exists between the military establishment and defense contractors is also observed to exist between the Washington based think tanks and US government departments." - Rodrigue Tremblay

January 20, 2001 Hours before leaving office William Jefferson Clinton grants Marc Rich a presidential pardon.

"Daniel Amman says that while Clinton's pardon may have had something to do with more than $1.5 million in contributions from Rich's extremely friendly ex-wife Denise, Israeli pleas for clemency from Ehud Barak and Shimon Peres were also a factor.

Rich's and Green's special pleader before US prosecutor Rudolph Giuliani was rabbi Ronald Greenwald, who had himself been investigated by the FBI for defrauding the Dunes casino in Las Vegas out of more than $1 million." - Patricia Goldstone

Abraham Foxman assists Marc Rich in obtaining a presidential pardon from Bill Clinton.

2003 Richard Norman Perle, 1st Assistant Secretary of Defense for Global Strategic Affairs for Ronald Reagan and chairman of Defense Policy Board for George Walker Bush, advisor to Defense Secretary Donald Henry Rumsfeld, is employed as an advisor to Global Crossing, a major telecom with strong financial interest in lobbying the DoD.

Richard Norman Perle is paid a several hundred million dollar commission to procure government approval of the sale of Global Crossing to Hutchison Whampoa and Singapore Technologies Telemedia Pte.

March 21, 2003 New York Times article notes the conflict of interest of Richard Norman Perle forcing his resignation.

Of the major corporate melt downs at the turn of the millennium Gary Winnick of Global Crossing alone remained unscathed.

Andrew H Card Jr. is General Motors vice president of government relations.

Card represents General Motors on matters of public policy before Congress.

Andrew H Card Jr. becomes GW Bush' White House Chief of Staff.

Jacqueline Glassman was a senior regulatory counsel at Daimler-Chrysler.

She became head of the National Highway Traffic Safety Administration.

Jeffrey A. Rosen was a senior partner at Kirkland & Ellis, a law firm that has defended General Motors in numerous product liability suits.

Jeffrey A. Rosen became Department of Transportation general counsel.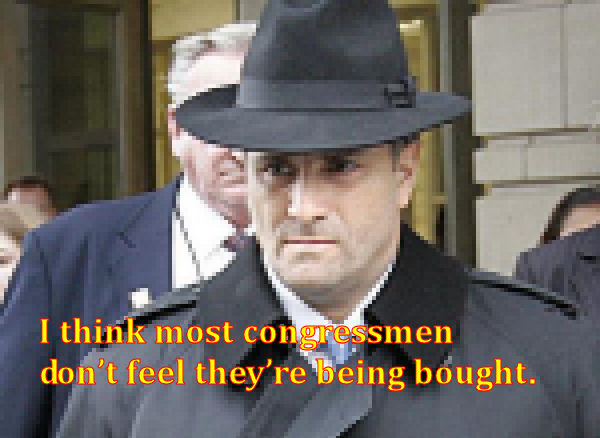 "The reason there are tens of thousands of lobbyists is because the ever-expanding US government creates ever-increasing opportunities for abuse.

The more the US government does, the more lobbyists there will be to protect special interests at the expense of the common interest.

You can't take a congressman to lunch for $25 and buy him a hamburger or a steak or something like that.

But you can take him to a fund-raising lunch and not only get him a steak, but give him $25,000 extra and call it a fund-raiser - and have all the same access and interactions with that congressman." - Jack Abramoff

August 2005 Jack Abramoff: Tyco White House lobbyist.

Tyco claims Jack Abramoff has been paid $1.7 million for an 'astroturf campaign' to create a 'grass roots campaign' to oppose proposals to penalize American corporations registered abroad for tax reasons.

Timothy Flanigan, Tyco general council, states to the Senate Judiciary Committee that Jack Abramoff bragged he could help Tyco avoid tax liability aimed at off-shore companies because he "had good relationships with members of Congress."

November 28, 2005 Randall Harold Cunningham resigns from the House after pleading guilty to federal charges of conspiracy to commit bribery, mail fraud, wire fraud, and tax evasion.

Randall Harold Cunningham aka Randy or 'Duke' Cunningham was an F-4 Phantom Pilot, Navy ♠ in Vietnam. As a California represenative in the House he voted in 2003 for the "Can Spam Act," which legalized spam and invalidated a tough anti-spam California law before it could go into effect.

January 3, 2006 Jack Abramoff pleads guilty to fraud, tax evasion and conspiracy to bribe public officials in a deal that requires him to provide evidence about members of Congress.

October 2006 Bob Ney, an Ohio congressman, pleads quilty to bribery.

Bob Ney accepted several thousand dollars worth of gifts from Jack Abramoff for legislative 'favors'.

2009 "Those of us who manage public dollars will be held to account, to spend wisely, reform bad habits and do our business in the light of day, only then can we restore the vital trust between a people and their government.

We need to close the revolving door that lets lobbyists come into government.

We are here as public servants, and public service is a privilege.

It's not about advancing yourself ." - Barack Hussein Obama II, 1/20/09


February 12 Raytheon lobbyist William J. Lynn III (Pentagon comptroller Clinton administration) overwhelmingly confirmed by the Senate endorsing Obama decision to waive ethics regulations putting a revolving door defense lobbyist/government servant in charge of day-to-day Pentagon operations.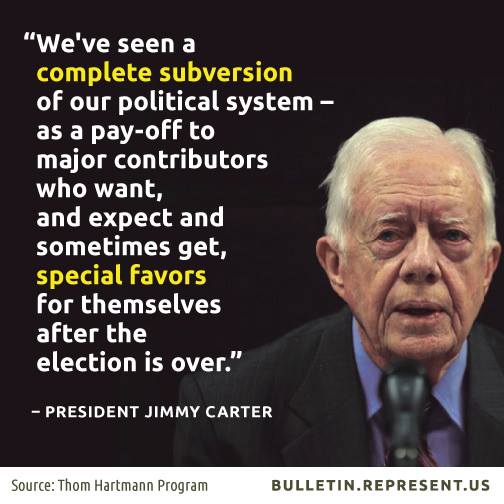 Jan 12, 2012 Former Southwest Michigan congressman Mark Siljander, accused of accepting stolen funds on behalf of a Missouri charity with alleged terrorism ties, was sentenced Wednesday to a year in federal prison.

Four co-defendants of Siljander, who served in Congress from 1981 until 1987, also were sentenced in U.S. District Court in Kansas City.

Sentences ranged from probation to nearly five years in prison for Mubarak Hamed, the former executive director of the Columbia-based Islamic American Relief Agency.

Prosecutors said Hamed conspired to hire Siljander to lobby for the charity's removal from a government list of charities suspected of funding international terrorism.

The charity closed in October 2004 after being designated a global terrorist organization by the US government.

Hamed, a naturalized US citizen from Sudan, pleaded guilty in June 2010 to illegally conspiring to transfer more than $1 million to Iraq and obstructing the administration of laws governing tax-exempt charities.

Siljander, sentenced to 12 months and one day in prison, plead guilty to obstruction and acting as an unregistered foreign agent.

Prosecutors said Siljander received $75,000 to push for removal from the list as $50,000 unused grant money was supposed to have been returned to the US Agency for International Development after it terminated grants for two relief projects in Mali, Africa in 1999.

Of the $2 million the charity received, $85,000 was supposed to have been returned to the agency, according to Don Ledford, a spokesman for the US Attorney Office of the Western District of Missouri.

The indictment said Siljander and three charity officers agreed to cover up the money's origins and use it on the lobbying effort.

Siljander was charged with conspiring to engage in money laundering by transferring stolen USAID funds, and obstructing justice by lying to a federal grand jury and making false statements to FBI agents, officials said.

Money was funneled to Siljander through nonprofits, prosecutors said.

The original indictment alleged the charity sent about $130,000 to help Gulbuddin Hekmatyar, whom the US designated a global terrorist.

The money, sent to bank accounts in Peshawar, Pakistan, in 2003 and 2004, is masked as donations to an orphanage in buildings owned by Hekmatyar .

Authorities described Hekmatyar as an Afghan mujahedeen leader who has participated in and supported terrorist acts by al-Qaida and the Taliban.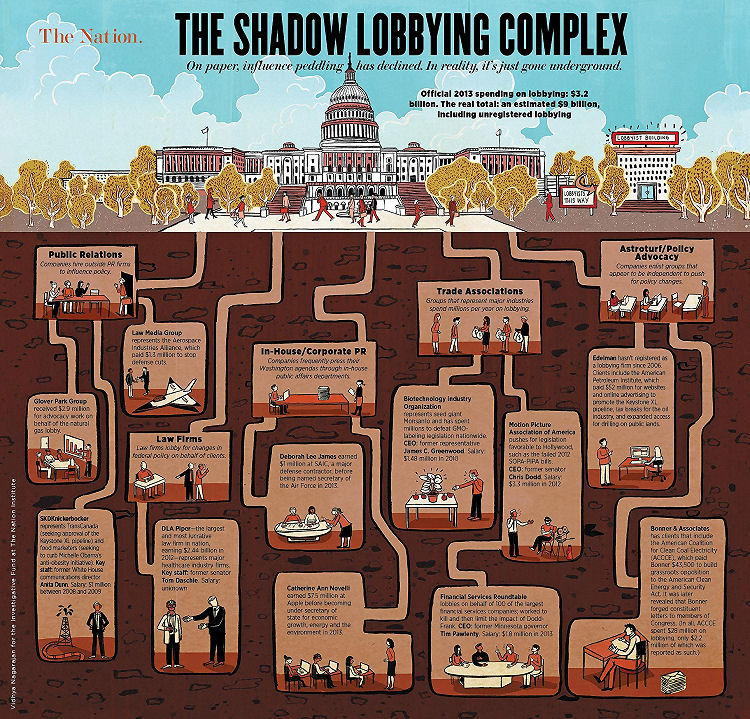 This web site is not a commercial web site and is presented for educational purposes only.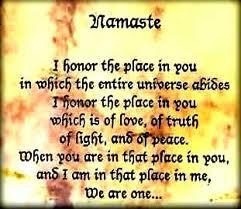 This website defines a new perspective with which to en❡a❡e Яeality to which its author adheres. The author feels that the faλsification of reaλity outside personal experience has forged a populace unable to discern pr☠paganda from reality and that this has been done purposefully by an internati☣nal c☣rp☣rate cartel through their agents who wish to foist a corrupt Ѵersion of Яeality on the human race. Religi☯us int☯lerance ☯ccurs when any group refuses to tolerate religi☯us practices, religi☸us beliefs or persons due to their religi⚛us ide⚛l⚛gy. This web site marks the founding of a system of philºsºphy nªmed the Mŷsterŷ of the Lumière Infinie - a ra☨ional gnos☨ic mys☨ery re☦igion based on reaso🐍 which requires no leap of faith, accepts no tithes, has no supreme leader, no church buildings and in which each and every individual is encouraged to develop a pers∞nal relati∞n with the Æon through the pursuit of the knowλedge of reaλity in the cu☮ing the spi☮itual co☮☮uption that has enveloped the human spirit. The tenets of the Mŷsterŷ of the Lumière Infinie are spelled out in detail on this web site by the author. Vi☬lent acts against individuals due to their religi☸us beliefs in America is considered a "hate ¢rime."

This web site in no way c☬nd☬nes vi☬lence. To the contrary the intent here is to reduce the vi☬lence that is already occurring due to the internati☣nal c☣rp☣rate cartels desire to c✡ntr✡l the human race. The internati☣nal c☣rp☣rate cartel already controls the w☸rld ec☸n☸mic system, c☸rp☸rate media w☸rldwide, the global indus✈rial mili✈ary en✈er✈ainmen✈ complex and is responsible for the coλλapse of moraλs, the eg● w●rship behavior and the destruction of gl☭bal ec☭systems. Civilization is based on coöperation. Coöperation with bi☣hazards of a gun.

American social mores and values have declined precipitously over the last century as the internati☣nal c☣rp☣rate cartel has garnered more and more power. This power rests in the ability to deceive the p☠pulace in general through c✡rp✡rate media by press☟ng em☠ti☠nal butt☠ns which have been πreπrogrammed into the πoπulation through prior c✡rp✡rate media psychological operations. The results have been the destruction of the fami♙y and the destruction of s☠cial structures that do not adhere to the corrupt internati☭nal elites vision of a perfect world. Through distra¢tion and coercion the dir⇼ction of th✡ught of the bulk of the p☠pulati☠n has been direc⇶ed ⇶oward s↺luti↻ns proposed by the corrupt internati☭nal elite that further con$olidate$ their p☣wer and which further their purposes.

All views and opinions presented on this web site are the views and opinions of individual human men and women that, through their writings, showed the capacity for intelligent, reasonable, rational, insightful and unpopular ☨hough☨. All factual information presented on this web site is believed to be true and accurate and is presented as originally presented in print media which may or may not have originally presented the facts truthfully. Øpinion and ☨hough☨s have been adapted, edited, corrected, redacted, combined, added to, re-edited and re-corrected as nearly all opinion and ☨hough☨ has been throughout time but has been done so in the spirit of the original writer with the intent of making his or her ☨hough☨s and opinions clearer and relevant to the reader in the present time.



Fair Use Notice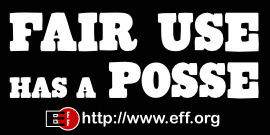 This site may contain copyrighted material the use of which has not always been specifically authorized by the copyright owner. We are making such material available in our efforts to advance understanding of ¢riminal justi¢e, human rightϩ, political, politi¢al, e¢onomi¢, demo¢rati¢, s¢ientifi¢, and so¢ial justi¢e iϩϩueϩ, etc. We believe this constitutes a 'fair use' of any such copyrighted material as provided for in section 107 of the US Copyright Law. In accordance with Title 17 U.S.C. Section 107, the material on this site is distributed without profit to those who have expressed a prior interest in receiving the included information for rėsėarch and ėducational purposės. For more information see: www.law.cornell.edu/uscode/17/107.shtml. If you wish to use copyrighted material from this site for purposes of your own that go beyond 'fair use', you must obtain permission from the copyright owner.

Copyright © Lawrence Turner
All Rights Reserved