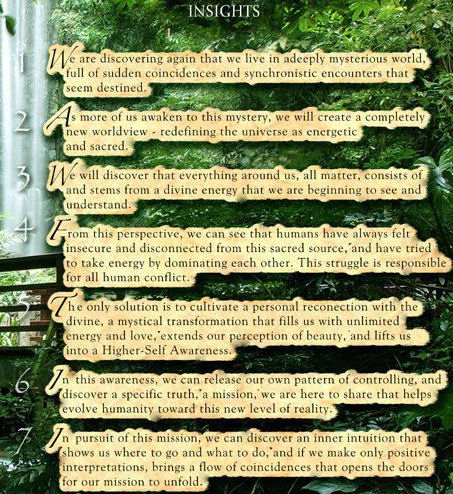 "I did not see you descending,

but now I see you ascending."

Gospel of Mary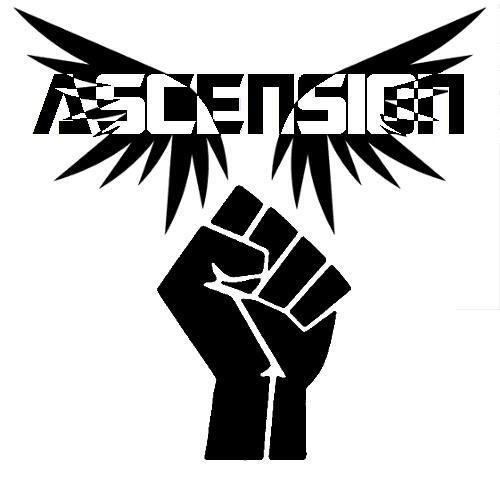 Astrology in all its forms assumes a connection between human affairs with the orientation of heavenly bodies.

Connection can be seen in the Mithric Mysteries and the ascension of the Age of Tarus and later in the ascension of the Age of Aquaris both directly playing off the position of Earth relative to the star field of the Milky Way.

This concept of ascent always involves a dichotomy as what goes up to Heaven must descend back to Earth.

The story may also be reversed as one may descend through Dantes' nine levels of hell in the attempt to find a way out of the labyrinth by following the Golden Thread.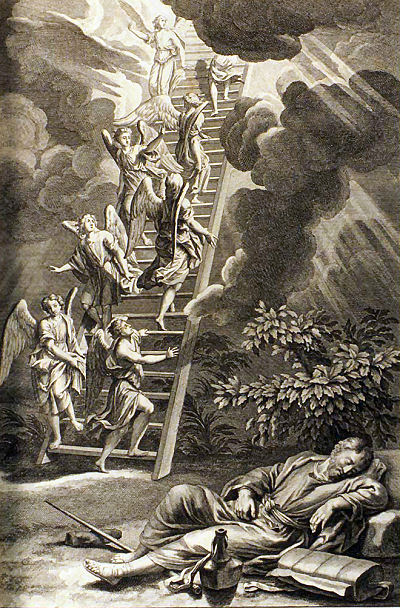 "Art thou a rational man? then observe this: The spirit which moveth on high, aloft from heat, taketh its exit, rising and shining in the sweet quality; therefore the sweet quality is friendly or kind will, and reigneth in meekness; and meekness and humility are its proper habitation." - Jakob Böhme

These themes can be readily seen in the stories of Odin and the World Ash Tree, Garden of Eden, Jakob's Ladder, The Gnawing, Jack and the Beanstalk and Rapunzel.

It is the essence of the journey in The Divine Comedy by Dante Alighieri.

Descent and ascent of the protagonist within a series of spiral structures take him through the core of Earth from the depths of Hell to celestial Paradise.

Anyone or anything suspended on the axis mundi between Heaven and Earth becomes a repository of sacred mystical knowledge.

A special status accrues to the thing suspended: a serpent, a victim of crucifixion or hanging, a rod, a fruit, mistletoe.

In pre-biblical times serpents acted as guides to sacred mystical knowledge.

The Caduceus, a short herald's staff first carried by the Greek god of commerce Hermes and later by the Roman god Mercury entwines with two serpents to form a double helix, is used as a symbol for medicine in America.

This begs the question of whether or not the position of medicine in North America is one of healing or commerce?

The traditional symbol, the Rod of Æsculapius, has only a single snake.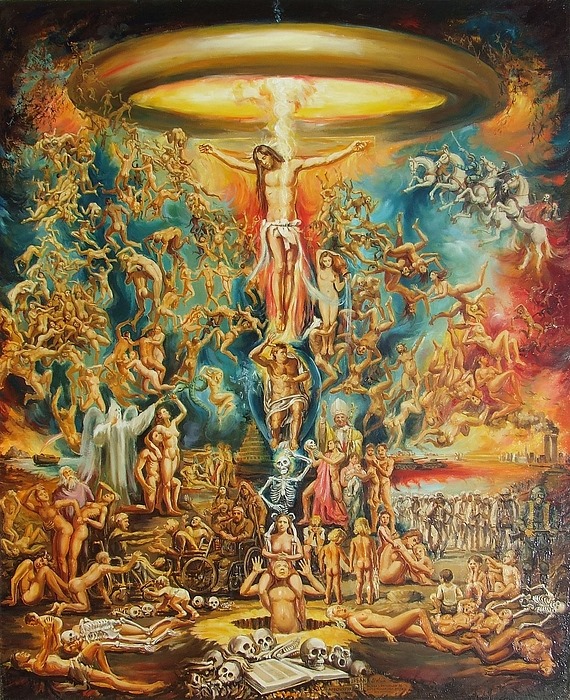 A new study by Hay Group, June 19, 2006, shows a dramatic rise in the achievement drive of business executives.

The desire to achieve is a major source of strength in business - the drive to continually improve performance or exceed a standard of excellence.

This period of rapid business growth has coincided with a loss of confidence in executive decision making, the dark side of this trend.

Overachievers tend to command and coerce, stifling subordinates.

Overachievement often results in ineffective, sometime unethical leadership.

Psychologist David McClelland identified three drivers of social behavior:

achievement - meeting a standard of excellence;

affiliation - maintaining close relationships;

and social power - having an impact on others.

The social power motive comes in two forms:

socialized - the leader derives strength from empowering people

personalized - the leader draws strength from controlling people.

Truly charismatic leaders are motivated by social power.

Faux charismatic leaders are motivated by personal power.

Leaders who forge high-performing energized ecosystems get results using a broad range of styles, choosing different ones for different circumstances.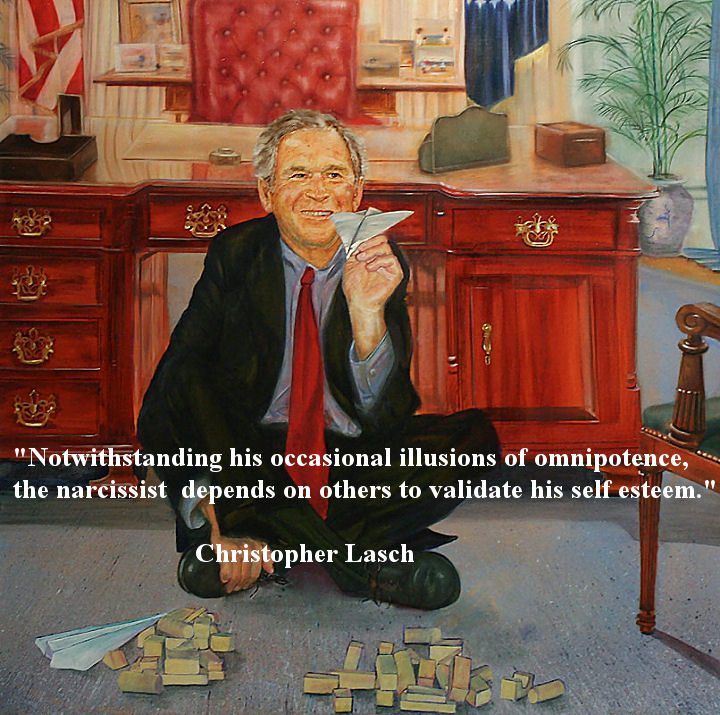 a strong drive for success

to seek after ambitiously or eagerly; to covet

a cherished desire; "his ambition is to own his own business"

an eager desire for superiority, power or the attainment of something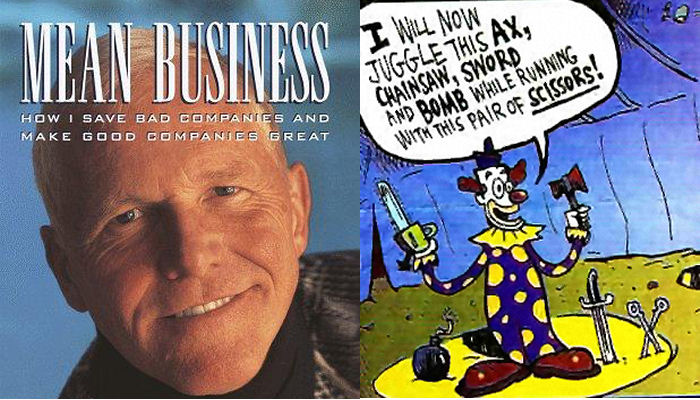 "I'm a hypercompetitive individual."

Jack Abramoff
Known as the turnaround specialist and downsizer, "Chainsaw Al".

Drastically altered the economic status of Nitec, Scott Paper and Sunbeam.

1974 to 1976 Al engineers accounting fraud at Nitec, a paper-mill.

Nitec $5 million profit for 1976 is actually a $5.5 million loss.

Nitec sues Dunlap for fraud, but is ultimately forced out of business.

1995 Al engineeres a Scott Paper merger with Kimberly-Clark which nets him a $100 million golden parachute - suspected of irregularities.

1996 Chainsaw Al becomes Chairman and CEO of Sunbeam.

Hostile takeovers of camping gear maker Coleman and coffee machine maker Signature Brands, Mr. Coffee, and smoke detector maker First Alert.

1997 Sunbeam reported record earnings of $189 million of which the SEC estimated $60 million were fraudulent.

$15 million to settle shareholder lawsuit; fined $500,000 over SEC charges.

Banned from serving as an officer or director of any public corporation.

In a review of the book "Psychopath Test" by Jon Ronson Business Week reports Dunlap "scores pretty high on the Hare Psychopathy Checklist."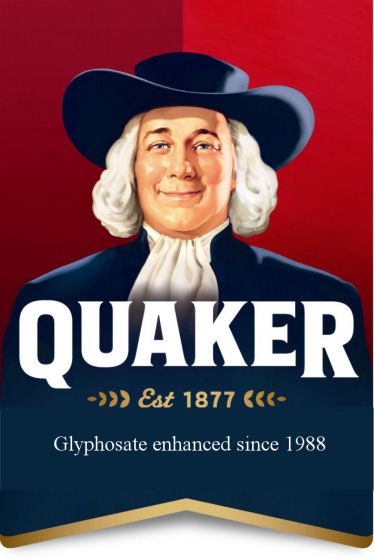 At the core of every massive corporate unraveling, whether it is Sunbeam, Enron, WorldCom, Global Crossing, Tyco, Adelphia, Long-Term Capital Management, Kmart, Schwinn, Motorola, Rubbermaid, Quaker Oats, Iridium, Conseco, Johnson & Johnson or the Helmsley Hotels, sits a hypercompetitive manager.

"Hypercompetitive people often think their self-worth is contingent on winning. Start any activity, first thought: I need to win."- John Tauer

"The take-no-prisoners competitors can be very successful much more rapidly than win-win competitors, mainly because they are obsessed, single-track and totally focused on their own desired result." - Denis Waitley

Competition as self-aggrandizement is extremely narcissistic behavior.

Hypercompetitiveness individuals may suceed in many parts of their lives, but interpersonal, especially intimate, relations are often deeply troubled.
2002 Journal of Social and Clinical Psychology examines romantic relationships of hypercompetitive individuals and finds these individuals report lower levels of honest communication with the partner, greater infliction of pain, stronger feelings of possessiveness, higher levels of mistrust, stronger need to control, lower ability to understand another perspective, and higher levels of conflict.

"The more secure you are in your own abilities, the more you know yourself, the less you feel you need to prove something to others."- Richard Ryckman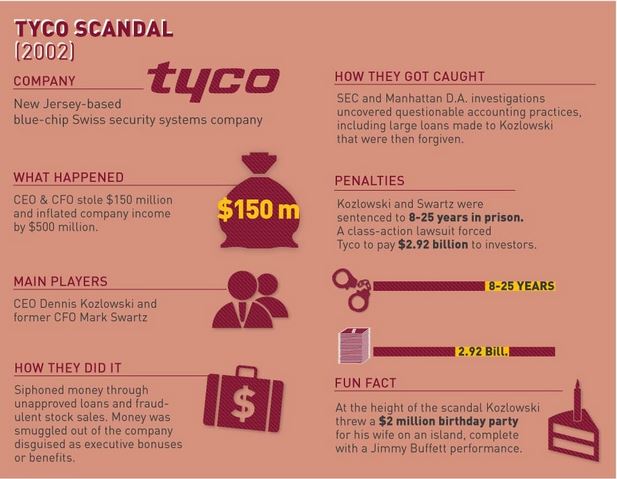 John Mackey, CEO of Whole Foods, made anonymous internet forum postings disparaging Wild Oats market from 1999 to 2006 with the intent of driving down the value of Wild Oats.

John Mackey posted comments stating the incorporation "has no value and no future" and that management "clearly doesn't know what it is doing."

Whole Foods made a hostile takeover bid in Feb. 2007 capturing Wild Oats.

The postings came to light due to a FTC lawsuit over monopoly issues.

2007 CEOs of 10 Wall Street firms that failed or received taxpayer bailouts are paid an average of $28.9 million per year in the years leading up to the Wall Street meltdown.

Their average pay from 1997 through 2007, equaled 575 times the median American family's 2007 income.

"Fat cat compensation has nothing to do with good corporate performance.

CEOs are exorbitantly compensated for driving companies off the cliff.

At a minimum, Congress must ensure that corporate leaders are paid for long-term performance, not short-term illusions." - Robert Weissman


2009 "For example, you may think you communicate, delegate, supervise, and recognize others well, but until you receive others' opinions on these things, you cannot truly know." - John Baldoni, How to Crack the Self-Awareness Paradigm, HarvardBusiness.org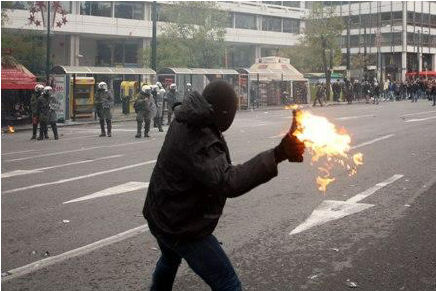 David Korten's research shows a high proportion of CEOs of major corporations exhibit the traits of antisocial personality disorder.

Antisocial personality disorder (APD) is a mental disorder defined in the Diagnostic and Statistical Manual of Mental Disorders:

"The essential feature for the diagnosis is a pervasive pattern of disregard for, and violation of, the rights of others that begins in childhood or early adolescence and continues into adulthood."

Essential features of the disorder are deception and manipulation.

Common characteristics of people with antisocial personality disorder include - persistent lying or stealing; recurring difficulties with the law; tendency to violate the rights and boundaries of others (property, physical, sexual, emotional, legal); aggressive, often violent behavior; inability to tolerate boredom; disregard for the safety of self or others; lack of remorse for hurting others; superficial charm; impulsiveness; a sense of entitlement; lack of guilt; relentlessness; recklessness.

"There are few social sanctions - as contrasted with legal or financial ones - for bad behavior. Executives who have served jail time are back on television and are still celebrities." - Jeffrey Pfeffer

"Mid-level managers are not evil people in their everyday lives, but in the context of their jobs, they have a separate moral code which make up the fundamental rules of corporate life:

(1) You never go 'around' or reproach your boss.

(2) You tell your boss what she wants to hear, so she doesn't have you killed.

(3) If your boss wants something dropped, you drop it.

(4) Sensitive to your boss' wishes you anticipate her needs.

(5) Your job is overlook mistakes, cover them up, keep your mouth shut."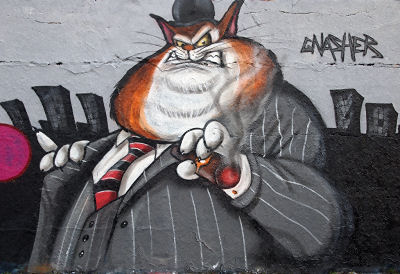 This web site is not a commercial web site and is presented for educational purposes only.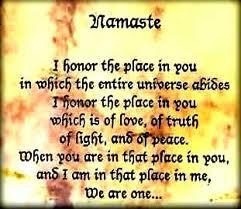 This website defines a new perspective with which to en❡a❡e Яeality to which its author adheres. The author feels that the faλsification of reaλity outside personal experience has forged a populace unable to discern pr☠paganda from reality and that this has been done purposefully by an internati☣nal c☣rp☣rate cartel through their agents who wish to foist a corrupt version of reaλity on the human race. Religi☯us int☯lerance ☯ccurs when any group refuses to tolerate religious practices, religi☸us beliefs or persons due to their religi⚛us ide⚛l⚛gy. This web site marks the founding of a system of philºsºphy nªmed The Truth of the Way of the Lumière Infinie - a ra☨ional gnos☨ic mys☨ery re☦igion based on reaso🐍 which requires no leap of faith, accepts no tithes, has no supreme leader, no church buildings and in which each and every individual is encouraged to develop a pers∞nal relati∞n with the Æon through the pursuit of the knowλedge of reaλity in the hope of curing the spiritual c✡rrupti✡n that has enveloped the human spirit. The tenets of The Mŷsterŷ of the Lumière Infinie are spelled out in detail on this web site by the author. Vi☬lent acts against individuals due to their religi☸us beliefs in America is considered a "hate ˘rime."

This web site in no way c☬nd☬nes vi☬lence. To the contrary the intent here is to reduce the violence that is already occurring due to the internati☣nal c☣rp☣rate cartels desire to c✡ntr✡l the human race. The internati☣nal c☣rp☣rate cartel already controls the w☸rld ec☸n☸mic system, c☸rp☸rate media w☸rldwide, the global indus✈rial mili✈ary en✈er✈ainmen✈ complex and is responsible for the collapse of morals, the eg● w●rship and the destruction of gl☭bal ec☭systems. Civilization is based on coöperation. Coöperation with bi☣hazards of a gun.

American social mores and values have declined precipitously over the last century as the corrupt international cartel has garnered more and more power. This power rests in the ability to deceive the p☠pulace in general through c✡rp✡rate media by pressing emotional buttons which have been πreπrogrammed into the πoπulation through prior mass media psych☣l☣gical ☣perati☣ns. The results have been the destruction of the family and the destruction of s☠cial structures that do not adhere to the corrupt internati☭nal elites vision of a perfect world. Through distra˘tion and ˘oer˘ion the dir⇼ction of th✡ught of the bulk of the p☠pulati☠n has been direc⇶ed ⇶oward s↺luti↻ns proposed by the corrupt internati☭nal elite that further con$olidate$ their p☣wer and which further their purposes.

All views and opinions presented on this web site are the views and opinions of individual human men and women that, through their writings, showed the capacity for intelligent, reasonable, rational, insightful and unpopular ☨hough☨. All factual information presented on this web site is believed to be true and accurate and is presented as originally presented in print media which may or may not have originally presented the facts truthfully. Øpinion and ☨hough☨s have been adapted, edited, corrected, redacted, combined, added to, re-edited and re-corrected as nearly all opinion and ☨hough☨ has been throughout time but has been done so in the spirit of the original writer with the intent of making his or her ☨hough☨s and opinions clearer and relevant to the reader in the present time.



Fair Use Notice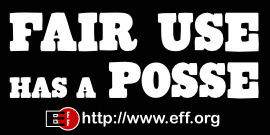 This site may contain copyrighted material the use of which has not always been specifically authorized by the copyright owner. We are making such material available in our efforts to advance understanding of ˘riminal justi˘e, human rightϩ, political, politi˘al, e˘onomi˘, demo˘rati˘, s˘ientifi˘, and so˘ial justi˘e iϩϩueϩ, etc. We believe this constitutes a 'fair use' of any such copyrighted material as provided for in section 107 of the US Copyright Law. In accordance with Title 17 U.S.C. Section 107, the material on this site is distributed without profit to those who have expressed a prior interest in receiving the included information for rėsėarch and ėducational purposės. For more information see: www.law.cornell.edu/uscode/17/107.shtml. If you wish to use copyrighted material from this site for purposes of your own that go beyond 'fair use', you must obtain permission from the copyright owner.

Copyright © Lawrence Turner
All Rights Reserved